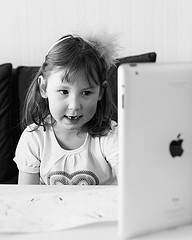 Many Tuscaloosa seniors enjoy visiting with family, but this quality time doesn't always last as long as we'd like. There is always more than could have been said in the precious time we share with those who matter the most.
If you want to occupy a bigger spot in the lives of your family members, technology may hold the key. With the introduction of the Internet, where you're standing no longer matters as much when it comes to engaging other people. You can have a conversation with someone in Paris while sitting at a computer in Tuscaloosa, Alabama!
It makes sense, then, that seniors would tap into the power of such capability to spend more time engaging with friends and family. Technology plays a huge role in the life of a typical teenage grandchild. When they come to visit a resident at Regency, it's a good bet they may have an iPhone or an iPad with them to play their games.
A website called GetYourFolksOnline.ie offers free, simple bite-size courses that seniors can take, learning skills step-by-step. There's everything from how to use a mouse, right up to trickier things like making Skype calls. Some people start out more tech-savvy than others, so there's certainly no shame in seeking a guide on your exploration of this new frontier.
The Internet is a lot more than a place where we can look up what Coach Saban said about the Crimson Tide's latest performance on the gridiron. Asking your grandchildren to help you learn how to text, set up Skype on a computing device or post a photo of your gardening on Facebook may actually help you bond with them. Some grandparents enhance their connections by using what they have in common or perhaps reading a book at the same time as other family members or sharing a hobby.
Even if you don't have a personal account on any social networks, many Regency communities have Facebook Pages that allow family to see what activities are going on. https://www.facebook.com/pages/Regency-Retirement-Village-of-Tuscaloosa/149319471765066
The possibilities for sparking conversations are endless. It all begins with engaging loved ones through the channels they use on a daily basis: Text messages, emails, social media, sharing photos on online galleries, and using videoconferencing programs like Skype to actually see and hear someone in real time.
On the website Grandparent.com, author Sharon Lovejoy writes, "When you ask your grandchildren to show you what their lives are like by taking pictures of their friends, pets, schools, or trips, you will surely get a response. The next time the kids visit, you can talk about the pictures together."
The only thing preventing a bold new journey into online communication is that first step into a much larger world.