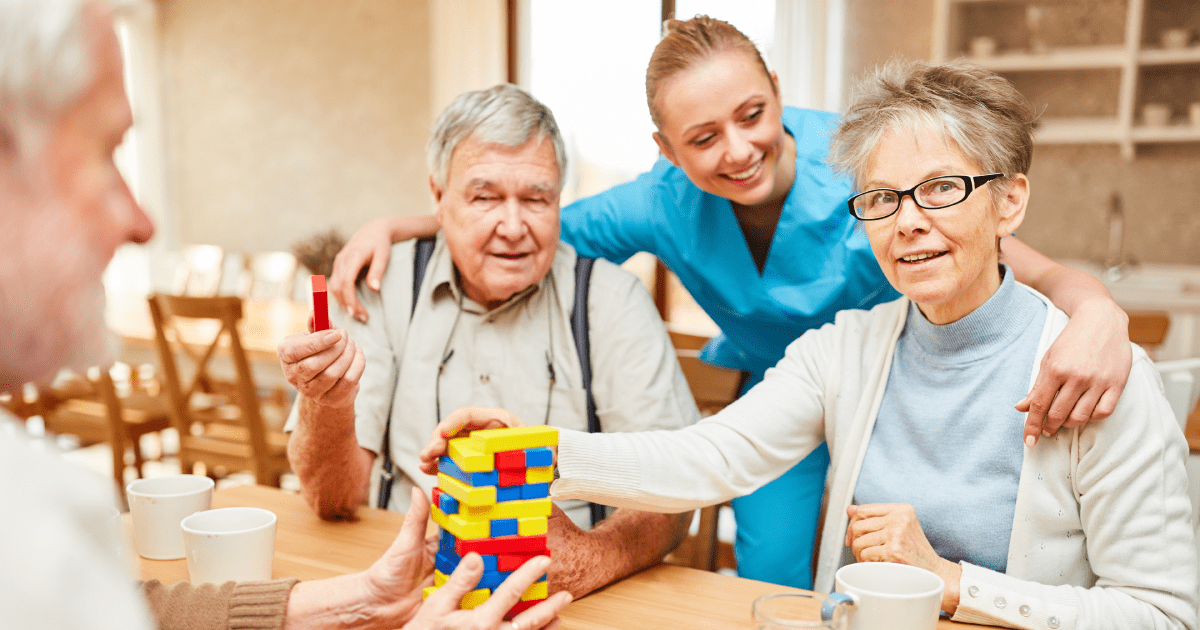 As our loved ones age, there comes a time when we must consider the best long-term care options to ensure their well-being and quality of life. The decision to transition a family member to a senior living facility is one of the most significant and emotionally charged choices a family can make. In this comprehensive guide, we'll explore the pivotal differences between two primary long-term care options: Assisted Living and Memory Care.
Both options are designed to cater to the unique needs of aging individuals, but they do so in distinct ways. Understanding these differences is crucial for families in search of the most suitable care solution for their beloved relatives or friends. At Regency Retirement Village of Tuscaloosa, we've made it our mission to help families make the right care choices for their loved ones that support their individual needs. We've outlined the key differences between assisted living and memory care in this blog to empower you to choose the best fit for your loved one.
The #1 Difference Between Assisted Living and Memory Care
Assisted living and memory care both offer invaluable support for seniors with medical conditions or limited mobility. They share the presence of on-site medical staff, yet their specialized services set them apart. Memory care programs are tailored to provide comprehensive support for individuals battling dementia disorders or Alzheimer's. Staff within these facilities undergo advanced training to cater to residents with diminished cognitive function.
On the other hand, Assisted Living communities strive to maintain residents' independence while delivering essential care. This option is best suited for seniors who retain their cognitive abilities but require regular medical attention or assistance with daily tasks that have become challenging. At Regency Retirement Village of Tuscaloosa, we work closely with families to make informed decisions about the ideal level of care for their loved ones, taking various factors into account, including cognitive status and medical records.
Medical Services at Assisted Living Facilities
The primary goal of assisted living is to provide seniors with a secure and nurturing home, ensuring prompt access to care while preserving their independence as much as possible. At Regency Retirement Village of Tuscaloosa, our compassionate staff encourages residents in our assisted living program to maintain their daily routines, engage in social interactions, and partake in physical activities, all while addressing their health concerns with diligence.
The healthcare services within our assisted living program are structured to assist residents with tasks that may have become challenging to perform independently, such as bathing, dressing, or using the restroom. Each resident at Regency Tuscaloosa's assisted living program benefits from a personalized care plan meticulously tailored to their individual needs and capabilities.
The Assisted Living Lifestyle
In most assisted living communities, a diverse range of activities are planned to promote a sense of independence and belonging. Here at Regency Tuscaloosa, our scheduled activities include something for everyone. Residents participate in field trips, arts and crafts, exercise groups, games and more. While some activities in assisted living focus on cognitive support, the majority are designed to provide entertainment and nurture social connections.
Assisted living programs offer an excellent solution to ensure your loved one resides in a secure environment, receiving the necessary care and attention for their health needs while retaining their independence. Both assisted living and memory care programs share a common objective of preserving independence, but specialized care is at the forefront for memory care.
Medical Services at Memory Care Facilities
Memory care programs specifically cater to seniors grappling with conditions that impair cognitive function. This typically includes Alzheimer's or various forms of dementia. Through a variety of brain-stimulating activities, thoughtful living space modifications, and maintaining higher staff-to-resident ratios, memory care programs provide more specialized attention and care than assisted living programs.
In memory care facilities, medical staff often possess specialized licensing requirements. At Regency Retirement Village of Tuscaloosa, our memory care program surpasses the most stringent licensing standards in the region. These licensing prerequisites are in place to guarantee that memory care staff are equipped with the knowledge and skills necessary to provide top-quality care to seniors with cognitive health conditions. Dementia and Alzheimer's can manifest with symptoms like confusion, memory loss, and anxiety, and memory care providers must be well-versed in addressing these symptoms as they arise.
Memory care programs offer the same level of support for daily tasks as assisted living programs but with a distinct focus on addressing the challenges associated with memory loss. Medical staff provide assistance with mobility, physical health conditions, and more, all while implementing therapies and activities designed to support cognitive health. At Regency Tuscaloosa, our staff frequently engages with memory care residents through activities like puzzles, art, and other creative endeavors aimed at preserving and stimulating memory.
The Memory Care Lifestyle
In addition to promoting both physical and cognitive health, memory care facilities frequently incorporate enhanced security measures to safeguard their residents. Dementia disorders can lead to various behavioral challenges, with wandering being a prevalent concern. This is why memory care facilities often implement heightened security measures, including locked doors and alarm systems.
Although memory care facilities provide a more specialized level of care compared to assisted living, the overall well-being of each individual remains essential to the care plan. At Regency Retirement Village of Tuscaloosa, we offer memory care residents a diverse range of events, activities, social programs, and exercise options to ensure they feel at home and empowered to maintain their routines while receiving the necessary support for their condition.
Assisted Living and Memory Care at Regency Retirement Village of Tuscaloosa
We understand that the choice to transition a friend or family member to a senior living facility can be emotionally challenging, and at Regency Retirement Village of Tuscaloosa, our commitment is to ensure this transition is as seamless and reassuring as possible. Our caring and highly-trained staff is experienced in guiding residents and their families through the process of relocating and settling into a new home and routine. We hope this guide was helpful in your decision-making process and that you feel empowered to make the right choice for your loved one.
If you are considering Regency Retirement Village of Tuscaloosa for your friend or relative, we extend a warm invitation to schedule a tour of our campus. Our community has become a cherished and welcoming home for numerous seniors, and we are dedicated to making our physical spaces as beautiful as the residents and staff who truly make our community special.