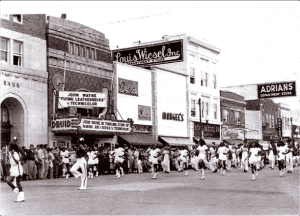 It's fun to walk down memory lane, especially when it comes to reminiscing about what Tuscaloosa's actual streets were like in yesteryear. There's so much history to this town. Whether you grew up here or are curious about the place you now call home, here's four special places are a part of Tuscaloosa history, some a part of the history books and some simply a part of everyday life in Tuscaloosa:
If you did your shopping in downtown Tuscaloosa through the 1970s, you might remember Brown's Department Store. Since 1926 it occupied the corner of University Boulevard and Greensboro Avenue. The store got its start in 1898 as Brown's Dollar Store. It was such a dominant presence in Tuscaloosa's city center that for many years the area was known simply as Brown's Corner.
Moviegoers might recall seeing a John Wayne flick, Bye Bye Birdie, Lawrence of Arabia, Dr. No, or It's a Mad, Mad, Mad, Mad World at one of Tuscaloosa's historic theaters. The original Bama Theater was renamed The Druid when a new theater was constructed on the corner of Greensboro and 6th Street. While The Druid is now closed, you can still catch events at the surviving Bama Theater. They have showings of everything from West Side Story to Black Jacket Symphony playing Led Zepplin's IV.
Crimson Tide fans and music aficionados alike will fondly recall the Memorial Coliseum (now known as the Coleman Coliseum). The first show it hosted in 1968 was The Roar of the Greasepaint– The Smell of the Crowd. It stayed busy throughout the 1960s and 70s with basketball games, a visit from Ronald Reagan, and performances by Elvis Presley, the Grateful Dead's only stop in Tuscaloosa, Yes & The Eagles, The Who, Neil Young, and more. Today it's home to the Crimson Tide men's basketball team and the women's gymnastics team.
Foster Auditorium is a familiar site to University of Alabama alumni and locals, but it's also the site of a historic moment in the Civil Rights movement when Vivian Malone Jones and others registered for classes amidst a crowd of press, U.S. marshals, and defiant administrators.
If you enjoyed this trip down memory lane, check back next month for ideas on how you can explore your own personal history and record your memories. We'll have five fun tips for how you can revisit moments in your past and keep those precious reminiscences alive!